Biography
SENATOR RISA HONTIVEROS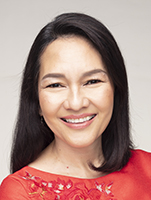 Senator Risa Hontiveros is a health and women's rights advocate, a proud activist, and a champion of the basic sectors. She is the Philippines' first socialist woman Senator.
Senator Risa Hontiveros is widely known and celebrated for her tireless work in promoting public health, the rights of women and other marginalized groups, and the welfare of the Filipino family.
A multi-awarded public servant, community organizer and broadcast journalist, Hontiveros served as the representative of Akbayan Partylist from 2004 to 2010. She was first elected to the Senate in 2016, and was later re-elected by voters to a new Senate term in 2022.
Hontiveros has personally championed 25 new landmark laws, including the historic Expanded Maternity Leave Law (RA 11210), which gives working moms 105 days of paid maternity leave, and the Mental Health Law (RA 11036), which provides the first legal framework over mental health care in the country.
As chairperson of the Senate Committee on Women, Children, Family Relations and Gender Equality, Hontiveros has successfully pushed into law the Expanded Solo Parents Welfare Act (RA 11861), which provides wider social benefits to solo parents, the Safe Spaces Act (RA 11313) which protects Filipinos - especially women - from gender-based harassment in public spaces, and the Anti-Online Sexual Abuse or Exploitation of Children Law (RA 11930) which boosts government efforts to end online abuse and exploitation of Filipino children.
She is currently working to pass reforms such as the proposed Lingap Para Kay Lolo at Lola Act, which will establish a system of universal social pension for Pinoy senior citizens, and the Free Dialysis Act, which will mandate PhilHealth to provide free dialysis sessions to all senior citizens.
In addition to her legislative achievements, Hontiveros is known as a fiscalizer due to her leading role in Senate investigations exposing corruption and abuses in government. She led the Senate probe on the "pastillas" scam involving personnel of the Bureau of Immigration, which led to the filing of criminal and administrative charges against dozens of erring BI officers.
She is also recognized for her work as a peace advocate. In 2005, she earned a nomination to the prestigious Nobel Peace Prize for her contributions in the peace movement in the Philippines.
Alongside her work in and outside of the Senate, Senator Hontiveros is a loving and hands-on solo mother to her 4 children: Kiko, Ianna, Issa and Sinta.
Congress Name Senator a Member of