Senator Win Gatchalian
Resume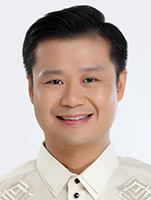 COMMITTEE CHAIRMANSHIPS
• Basic Eduaction, Arts and Culture
• Energy
 
 
COMMITTEE VICE CHAIRMANSHIPS
• Banks, Financial Institutions and Currencies
• Economic Affairs
• Finance
• Government Corporations and Public Enterprises
• Higher, Technical and Vocational Education
• Public Services
• Science and Technology
• Trade, Commerce and Entrepreneurship
 
 
COMMITTEE MEMBERSHIPS
• Accountability of Public Officers & Investigations (Blue Ribbon)
• Accounts
• Agriculture, Food and Agrarian Reform
• Cooperatives
• Environment, Natural Resources and Climate Change
• Foreign Relations
• Labor, Employment and Human Resources Development
• Local Government
• National Defense and Security, Peace, Unification and Reconciliation
• Rules
• Ways and Means
• Women, Children, Family Relations and Gender Equality
 
 
EDUCATION
1991 - 1995
Bachelor of Science Major in Finance and Operations Management
Boston University, Boston, Massachusetts, USA
 
 
1988 - 1991
Secondary Education
Grace Christian High School
 
 
1982 - 1988
Elementary Education
Grace Christian High School
POLITICAL PARTY
2001 - PRESENT
NATIONAL PEOPLE'S COALITION
Member
PUBLIC SERVICE EXPERIENCE
2016 - PRESENT
SENATOR
Senate of the Philippines, 18th Congress
 
 
2013 - 2016
REPRESENTATIVE
1st DISTRICT OF VALENZUELA CITY
House of Representatives, 16th Congress
 
 
2004 - 2013
CITY MAYOR
City Government of Valenzuela City, Metro Manila
 
 
2001 - 2004
REPRESENTATIVE
1st DISTRICT OF VALENZUELA CITY
House of Representatives, 12th Congress
PRIVATE SECTOR EXPERIENCE
1999 - 2001
WATERFRONT PHILIPPINES, INC.
One of the biggest local companies in the hospitality industry, rendering services­ including hotel, leisure, tourism and gaming, to local, regional and international guests.

VICE CHAIRMAN
Held responsible for boosting and making the hotel in the forefront by making it one of the premier providers of world-class accommodation for the clients.

 
 
1999 - 2001
AIR PHILIPPINES CORPORATION
Now called PAL Express, the second largest airline company which operates daily domestic and international flights from Manila, Cebu, Davao City and Zamboanga.

VICE CHAIRMAN
Overseen the management of the company as it continually increases the flights and improves the quality of aircrafts to guarantee the safety of the passengers.

 
 
1997 - 2001
THE WELLEX GROUP
One of the leading diversified investment firms in the Philippines, with industries including hotel, real estate development, oil, mining, aviation, trading and banking.

EXECUTIVE VICE PRESIDENT
In authority of the operations management of various industries; working on multiple markets, adapting to grow trends in business and economics; and being in the mainstream of the country's trade and industry.
AFFILIATIONS
BOARD OF DIRECTOR, SYNERGEIA FOUNDATION, INC.
An alliance of individuals, institutions and organizations initiating educational programs to help improve language proficiency among grade school students in cooperation with the Department of Education, local government units, socio-civic groups, schools, teachers, parents, and students.
GOVERNOR, PHILIPPINE RED CROSS
An organization in the Philippines dedicated to help save lives through humanitarian, health and disaster-related services-guided by the organization's fundamental principles including humanity, impartiality, neutrality, independence, voluntary service, unity and universality.
NCR CHAIRMAN (2015-2016), BOY SCOUTS OF THE PHILIPPINES
One of the oldest national youth organizations in the Philippines committed to develop young minds to become morally responsible, competent, God-fearing and capable leaders of the country.
ADVOCACIES
ACCESSIBLE AND QUALITY EDUCATION
• Ensure the proper implementation of Republic Act 10931 or the Free Higher Education Act.
• Monitor the implementation of the K to 12 Program to improve level of global competitiveness.
• Introduce interventions for continued learning delivery in times of calamities and other emergencies that disrupt classes such as the COVID-19 pandemic.
• Build a world-class Philippine education system that provides better infrastructure, technologies, and innovative programs to strengthen the general welfare of both teachers and learners.
• Create a healthier environment for students by eradicating malnutrition through mandated feeding programs in all public schools.
• Champion a landmark legislation which seeks to provide children and youth with special needs the resources, opportunities and care necessary to succeed in school and later in life.
• Establish an aggressive affirmative action program aimed at providing out-of-school youth with expanded government assistance to all types of education, including school-based educational opportunities from the primary to tertiary levels, non-formal education under the Alternative Learning System, indigenous learning systems, and technical-vocational training.
• Implement a free comprehensive national program for mandatory continuing education for all primary and secondary teachers in both private and public educational institutions as well as formal and non-formal institutions of learning.
• Strengthen the involvement of communities in education governance by empowering its members as partners in educating the learners, engaging their participation in assessing the effectiveness of the delivery of education services, and integrating their interventions to achieve the shared goal of quality inclusive education.
• Improve the quality of teacher education and training in the country and align their pre-service and in-service education to be able to improve the quality of education in elementary and secondary schools.
CONSUMER-FRIENDLY ENERGY POLICY
• Institutionalize legislative reforms to ensure the 3S goals on Energy-Stability, Sustainability, and consumers' Savings.
• Provide "Kuryente for Every Juan"-electrification in all rural areas of the country.
• Increase the uptake of environment-friendly energy technologies for future generations.
• Fight red tape and streamline the number of processes in power generation, transmission, and distribution projects.
• Attract new generation capacity and improve the performance of utilities to meet the increasing power needs of the country while delivering quality service to consumers.
PRO-CONSUMER LEGISLATIONS
• Steer the economic resurgence in the Philippines by crafting measures that would promote robust competition, encourage investments, make doing business in the country easier to be able to make basic goods available in the market and affordable to consumers.
INFORMATION AND COMMUNICATIONS TECHNOLOGY REFORMS
• Promote competition in the telecommunications industry.
• Improve, expand, and strengthen the digital infrastructure in the country to improve internet speeds while lowering cost.
• Foster consumer protection for !CT-related services.
AWARDS & RECOGNITIONS
PERSONAL AWARDS
INTERNATIONAL PEACE LAUREATE FOR PUBLIC SERVICE (2019)
Given by the Sino-Phil Asia International Peace Awards Foundation, Inc. in recognition to the outstanding individuals who attained exemplary achievements in their respective fields: culture, science, medicine, sports, humanity, and public service.
SILVER HUMANITARIAN SERVICE CROSS AWARD (2014)
One of the most recognized awards given to Philippine Red Cross (PRC) members or volunteers for outstanding leadership and service in the promotion of its mission.
MANILA 40 UNDER 40 INTERNATIONAL DEVELOPMENT LEADERS (2013)
Recognized by the Development Executive Group (DevEx) as one of the young, reform-minded and spirited leaders who makes impact by instilling change in the country.
BEST AMONG BEST PRACTICES, LOCAL CHIEF CATEGORY (2013)
Awarded by the National Capitol Region Police Office (NCRPO)'s Regional Investigation and Detective Management Division for the improvement of the Valenzuela City Police.
PUBLIC SERVICE HONOREE, THE OUTSTANDING YOUNG MEN, TOYM (2011)
Awarded for his more than a decade of commitment in "changing people's lives;" given by the Junior Chamber International - Philippines.
BEST MAYOR IN CAMANAVA (2008)
The National Police Commission (NAPOLCOM) granted him as Best Mayor in CAMANAVA (Caloocan, Malabon, Navotas and Valenzuela) for his logistic and financial support to Valenzuela City's PNP programs: Police Visibility Program and PNP's Mamang Pulis Program.
FOR VALENZUELA CITY
CHAMPION OF HEALTH GOVERNANCE AWARDEE (2013)
Given by Kaya Natin! Movement for Good Governance and Ethical Leadership, Merck Sharp & Dohme, Ateneo School of Government, DOH and DILG.
SEAL OF GOOD HOUSEKEEPING, BRONZE CATEGORY (2012)
Given by DILG to LGUs with good performance in internal housekeeping.
GALING POOK AWARDS, TOP TEN OUTSTANDING LOCAL GOVERNANCE PROGRAMS FOR 35 IN PUBLIC SERVICE PROGRAM (2012)
An Anti-Graft and Corruption Platform of the City Government of Valenzuela to guarantee transparency and good governance.
MOST BUSINESS-FRIENDLY LOCAL GOVERNMENT UNIT AWARD - HIGHLY URBANIZED CITY CATEGORY BY THE PHILIPPINE CHAMBER OF COMMERCE AND INDUSTRIES, PCCI (2012)
A clear manifestation of good governance reforms to promote trade, investment, transparency, efficiency, and competitiveness in delivering business services.
NUMBER ONE IN NCR, NATIONAL ACHIEVEMENT TEST (NAT) FOR ELEMENTARY (SY 2010-2011)
Through the Win sa Edukasyon Program, Valenzuela garnered the most number of achievers in the NAT exam which gauges the academic competency of Grade 6 elementary students entering Junior High School.
LAWS AUTHORED AND SPONSORED
18TH CONGRESS
COMMITTEE ON ENERGY
• RA 11572
Philippine Energy Research and Policy Institute Act
July 30, 2021
 
 
• RA 11571
JCEC Enhancement Act
July 6, 2021
 
 
• RA 11552
Extension of Lifeline Rate
May 27, 2021
COMMITTEE ON BASIC EDUCATION, ARTS AND CULTURE
• RA 11510
Alternative Learning System Act
Date Signed: December 23, 2020
 
 
• RA 11480
An Act to Lengthen the School Calendar from Two Hundred (200) Days to Not More Than Two Hundred Twenty (220) Class Days
Date Signed: July 17, 2020
 
 
• RA 11476
GMRC and Values Education Act
Date Signed: June 25, 2020
 
 
• RA 11470
National Academy of Sports Act
Date Signed: June 9, 2020
17TH CONGRESS
COMMITTEE ON ENERGY
• RA 11361
Anti-Obstruction of Power Lines Act
Date Signed: June 30, 2019
 
 
• RA 11371
Murang Kuryente Act
Date Signed: June 30, 2019
 
 
• RA 11039
Electric Cooperatives Emergency and Resiliency Fund Act
Date Signed: June 29, 2019
 
 
• RA 11285
Energy Efficiency and Conservation Act
Date Signed: April 12, 2019
 
 
• RA 11234
Energy Virtual One-Stop Shop Act
Date Signed: March 8, 2019
COMMITTEE ON ECONOMIC AFFAIRS
• RA 11293
Philippine Innovation Act
Date Signed: April 17, 2019
 
 
• RA 11453
An Act Further Strengthening the Powers and Functions of the Authority of the Freeport Area of Bataan (AFAB), Amending for This Purpose RA 9728, Otherwise Known As The "Freeport Area Of Bataan (Fab) Act Of 2009"
Date Signed: April 17, 2019
 
 
• RA 11202
Mobile Number Portability Act
Date Signed: February 8, 2019
LAWS AUTHORED
18TH CONGRESS
COMMITTEE ON ENERGY
• RA 11548
An Act Granting the President of the Philippines the power to defer SSS contribution increases during a state of calamity
Date Signed: May 26, 2021
 
 
• RA 11505
Act Renewing for Another Twenty-Five (25) Years the Franchise Granted to Metro Manila Turf Club, Inc. Under RA 7978, Entitled "An Act Granting the Metro Manila Turf Club"
Date Signed: December 20, 2020
 
 
• RA 11462
Postponing the May 2020 Barangay and Sangguniang Kabataan Elections
Date Signed: December 3, 2019
17TH CONGRESS
COMMITTEE ON EDUCATION
• RA 11314
An Act Institutionalizing the Grant of Student Fare Discount Privileges on Public Transportation and for Other Purposes
Date Signed: April 17, 2019
 
 
• RA 11037
Masustansyang Pagkain para sa Batang Pilipino Act
Date Signed: June 20, 2019
 
 
• RA 10931
Universal Access to Quality Tertiary Education Act
Date Signed: August 2, 2017
GENERAL LEGISLATION
• RA 11293
Tobacco Excise Tax Increase
Date Signed: June 30, 2019
 
 
• RA 11439
An Act Providing for the Regulation and Organization of Islamic Banks
Date Signed: June 30, 2019
 
 
• RA 11459
An Act Creating the Positions for Judges-At-Large, Amending for the Purpose Batas Pambansa Bilang 129, Otherwise Known as the Judiciary Reorganization Act of 1980, and Appropriating Funds Therefor
Date Signed: June 30, 2019
 
 
• RA 11310
An Act Institutionalizing the Pantawid Pamilyang Pilipino Program (4PS)
Date Signed: April 17, 2019
 
 
• RA 11315
An Act Establishing a Community-Based Monitoring System and Appropriating Funds Therefor
Date Signed: April 17, 2019
 
 
• RA 11262
An Act Amending Sections 85 and 103 of RA 9593, Otherwise Known as the Tourism Act of 2009
Date Signed: April 10, 2019
 
 
• RA 11229
Child Safety in Motor Vehicles Act
Date Signed: February 22, 2019
 
 
• RA 11223
Act Instituting Universal Health Care for All Filipinos, Prescribing Reforms in the Health Care System, and Appropriating Funds Therefor
Date Signed: February 20, 2019
 
 
• RA 11201
An Act Creating the Department of Human Settlements and Urban Development, Defining its Mandate, Powers and Functions, Providing Funds Therefor and for Other Purposes
Date Signed: February 14, 2019
 
 
• RA 11203
An Act Liberalizing the Importation, Exportation and Trading of Rice, Lifting for the Purpose the Quantitative Import Restriction on Rice and for Other Purposes
Date Signed: February 14, 2019
 
 
• RA 11199
Social Security Act of 2018
Date Signed: February 7, 2019
 
 
• RA 11053
Anti-Hazing Act of 2018
Date Signed: June 29, 2018
 
 
• RA 10969
Free Irrigation Service Act
Date Signed: February 2, 2018
 
 
• RA 10963
Tax Reform for Acceleration and Inclusion (TRAIN)
Date Signed: December 19, 2017
LAWS CO-AUTHORED
18TH CONGRESS
• RA 11576
An Act Further Expanding the Jurisdiction of the Metropolitan Trial Courts, Municipal Trial Courts in Cities, Municipal Trial Courts, and Municipal Circuit Trial Courts, Amending for the Purpose Batas Pambansa Big. 129, Otherwise Known as "The Judiciary Reorganization Act of 1980;' as Amended
Date Signed: July 30, 2021
 
 
• RA 11569
An Act Extending the Estate Tax Amnesty and for Other Purposes, Amending Section 6 of RA 11213, Otherwise Known as the "Tax Amnesty Act"
Date Signed: June 30, 2021
 
 
• RA 11548
An Act Granting the President of the Philippines the Power to Defer the Increases in Contributions of the Social Security System for the Duration of the State of Calamity Under Proclamation No. 929, S. 2020, as Amended by Proclamation No. 1021, S. 2020, Amending Section 4(A)(9) of RA 11199, Also Known as the Social Security Act of 2018
Date Signed: May 26, 2021
 
 
• RA 11549
An Act Lowering the Minimum Height Requirement for Applicants of the Philippine National Police (PNP), Bureau of Fire Protection (BFP), Bureau of Jail Management and Penology (BJMP), and Bureau of Corrections (BuCor), Amending RA 6975, as Amended, RA 9263, and RA 10575
Date Signed: May 26, 2021
 
 
• RA 11535
An Act Making the Position of a Cooperatives Development Officer Mandatory in the Municipal, City and Provincial Levels, Amending for the Purpose RA 7160, Otherwise Known as the Local Government Code of 1991, as Amended
Date Signed: April 9, 2021
 
 
• RA 11524
Coconut Farmers and Industry Trust Fund Act
Date Signed: February 26, 2021
 
 
• RA 11525
An Act Establishing the Coronavirus Disease 2019 (Covid-19) Vaccination Program Expediting the Vaccine Procurement and Administration Process, Providing Funds Therefor, and for Other Purposes
Date Signed: February 26, 2021
 
 
• RA 11502
An Act Declaring the Month of October of Every Year as the National Cooperative Month
Date Signed: December 16, 2020
 
 
• RA 11509
Doktor Para Sa Bayan Act
Date Signed: December 23, 2020
 
 
• RA 11517
An Act Authorizing the President to Expedite the Processing and Issuance of National and Local Permits, Licenses and Certifications in Times of National Emergency
Date Signed: December 23, 2020
 
 
• RA 11511
An Act Amending RA 10068 or the Organic Agriculture Act of 2010
Date Signed: December 12, 2020
 
 
• RA 11469
Bayanihan to Heal as One Act
Date Signed: March 24, 2020
 
 
• RA 11463
An Act Establishing Malasakit Centers in All Department of Health (DOH) Hospitals in the Country and in the Philippine General Hospital (PGH), Providing Funds Therefor and for Other Purposes
Date Signed: December 3, 2019
17TH CONGRESS
COMMITTEE ON EDUCATION
• RA 11106
An Act Declaring the Filipino Sign Language as the National Sign Language of the Filipino Deaf and the Official Sign Language of Government in All Transactions Involving the Deaf, and Mandating its Use in Schools, Broadcast Media, and Workplaces
Date Signed: July 31, 2017
GENERAL LEGISLATION
• RA 11350
National Commission of Senior Citizens Act
Date Signed: June 30, 2018
 
 
• RA 11364
An Act Reorganizing and Strengthening the Cooperative Development Authority, Repealing for the Purpose RA 6939, Creating the Cooperative Development Authority
Date Signed: June 30, 2019
 
 
• RA 11312
An Act Strengthening the Magna Carta for Scientists, Engineers, Researchers and Other Science and Technology Personnel in the Government, Amending for the Purpose RA 8439
Date Signed: April 17, 2019
 
 
• RA 11292
An Act Establishing and Institutionalizing the Seal of Good Local Governance for Local Government Units, and Allocating for This Purpose the Seal of Good Local Governance Fund
Date Signed: April 12, 2019
 
 
• RA 11227
Handbook for OFWs Act of 2018
Date Signed: February 22, 2019
 
 
• RA 11228
The Act on Mandatory PhilHealth Coverage for Persons with Disabilities
Date Signed: February 22, 2019
 
 
• RA 11232
An Act Providing for the Revised Corporation Code of the Philippines
Date Signed: February 20, 2019
 
 
• RA 11215
An Act Institutionalizing a National Integrated Cancer Control Program and Appropriating Funds Therefor
Date Signed: February 14, 2019
 
 
• RA 11148
An Act Scaling Up the National and Local Health and Nutrition Programs Through a Strengthened Integrated Strategy for Maternal, Neonatal, Child Health and Nutrition in the First One Thousand (1,000) Days of Life, Appropriating Funds Therefor and for Other Purposes
Date Signed: November 29, 2018
 
 
• RA 11035
An Act Institutionalizing the Balik Scientist Program, Appropriating Funds Therefor, and for Other Purpose
Date Signed: June 15, 2018
Full Name of Senator
Sherwin "Win" T. Gatchalian
Congress Name Senator a Member of